Reuters is reporting that Safe Kids USA and CN are working together to teach elementary school children how to stay safe near railroad tracks.
In 2008, approximately 744 people were killed and 1,372 were injured in incidents involving trains in the United States. These incidents involved either trains and pedestrians or trains and motor vehicle occupants. Twenty-two children ages 14 and under were killed, and another 122 were injured, in incidents involving trains.

Safe Crossing Week, November 1 to 7, 2009, focuses on Teaching Safety for Life, which includes an innovative in-school program that provides grade level-specific railroad safety curriculum and activities.
Because of their enormous size, locomotives and train crashes can have devastating effects on cars and trucks. Many motorists simply assume a train won't be approaching a crossing if the motorist doesn't see gates or warning lights. However, many railroad crossings are unguarded and protected only by a small "cross buck" sign. Even protected crossings may have malfunctioning or defective lights and gates.
Missouri train accidents were one of the 10 most deadly — state by state — in 2008. Missouri train deaths increased in both 2007 and 2008.
Illinois train accidents were the most deadly in 2008. Nearly half of those deaths occurred in Illinois' northeast region, including Cook County and Chicago.
To stay safe near railroad tracts, parents and children need to discuss and follow these simple life-saving rules:

Only cross at marked railroad crossings. Always look both ways before crossing the tracks.

Obey all signs and signals. Listen for a warning bell or train whistle.

Watch for flashing lights.

Never try to cross the tracks if a train is coming. Trains are very large and heavy, and take a long time to stop!

When a train is coming, tand at least 10 giant steps away from the tracks. If one train passes, make sure another one isn't coming. Trains can come from any direction at any time on any track.

Get off your bide and walk it across the tracks. Don't forget to wear your helmet when you ride your bike.

Walking or playing on or near railroad tracks is dangerous.
I applaud Safe Kids U.S.A. and CN for taking this important first step. Railroad crossings are incredibly dangerous and all railroad companies must take more steps to protect children, pedestrians and motorists. All railroad crossings should be unobstructed (free from buildings, vegetation and other trains that could block someone's view of an approaching train), should have appropritate warning devices (such as flashing lights, gates, bells, and well-marked stop signs), and train crews must blow the train whistle at every crossing. Railroad corporations must provide safe crossings for the public.
You can learn more about railroad crossing safety at our web site.
Learn more about Langdon & Emison and become a fan on Facebook.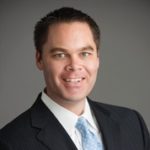 Brett Emison is currently a partner at Langdon & Emison, a firm dedicated to helping injured victims across the country from their primary office near Kansas City. Mainly focusing on catastrophic injury and death cases as well as complex mass tort and dangerous drug cases, Mr. Emison often deals with automotive defects, automobile crashes, railroad crossing accidents (train accidents), trucking accidents, dangerous and defective drugs, defective medical devices.