New Jersey news sources are reporting railroad crossing signal glitches that have officials worried. Police confirmed that the railroad crossing warning problems have been around for decades.
Motorists cruising down borough roadways do what they are supposed to do when they see flashing lights at a railroad crossing: They ease to a stop and wait patiently for the assumed-to-be-coming train to pass.

Except, on some occasions, no train comes, borough officials said.

It's sporadic problem that, according to police, has been around for decades. But Borough Council President Curtis Stollen said the situation worsened over the summer, when the number of false alarms at Conrail track crossings increased, much to the dismay of idle motorists and nearby residents.
These signal malfunctions compound ordinary railroad crossing dangers because of confusion to motorists attempting to cross the railroad tracks.
"It's a double-edged sword. When those signals are activated . . . you are required to stop until they are not activated," he said. "Some people will look, see there's no train coming and go. Other people just sit there until they are directed otherwise."
At times, the railroad crossing warning lights would flash for hours. Calls to the railroad went unanswered for long periods of time.
Train accidents and, specifically, railroad crossing accidents, can have devastating effects on motor vehicles. When a train hits another vehicle — a car, truck or SUV — the results are catastrophic. Often, these accidents and deaths could have been prevented.
In the last 10 years, there have been more than 30,000 railroad crossing collisions resulting in more than 3600 deaths.
A railroad company is responsible for assuring that train crossing warning systems are active and in working order. In one Langdon & Emison case, the flashing lights were working, but there was no train visible. As the vehicle attempted to cross the tracks, a train came around a curve, failed to use its horn and collided with the car. In another case, a train was obstructed by overgrown vegetation and the crossing lights did not activate. Too often, railroad companies allow weeds, grass, trees and other vegetation to overgrow near railroad crossings. This overgrown foliage prevents motorists from seeing an oncoming train.
You can learn more about railroad crossing dangers and how to protect yourself at our safety blog or by visiting our web site.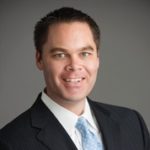 Brett Emison is currently a partner at Langdon & Emison, a firm dedicated to helping injured victims across the country from their primary office near Kansas City. Mainly focusing on catastrophic injury and death cases as well as complex mass tort and dangerous drug cases, Mr. Emison often deals with automotive defects, automobile crashes, railroad crossing accidents (train accidents), trucking accidents, dangerous and defective drugs, defective medical devices.