Everyone learns at an early age to look both ways before crossing the street, but do you look both ways before entering a railroad crossing? Many motorists take for granted that there cannot be a train accident if there are not lights flashing or no crossing arms at the railroad crossing. However, many railroad crossings are unguarded and even those with lights and gates may malfunction.
Train accidents and, specifically, railroad crossing accidents, can have devastating effects on motor vehicles. When a train hits another vehicle — a car, truck or SUV — the results are catestrophic. Often, these accidents and deaths could have been prevented.
In the last 10 years, there have been more than 30,000 railroad crossing collisions resulting in more than 3600 deaths.
Some national statistics you should know (courtesy of Operation Lifesaver, a national, non-profit education and awareness program dedicated to ending tragic collisions, fatalitites and injuries at highway-rail grade crossings and on railroad rights of way):
333 million — Number of vehicles that cross railroad tracks every day
50% — Percentage of vehicle/train collisions that occur at crossings with active warning devices (lights, gates, bells)
40 — Times you are more likely to die in a crash with a train than you are to die in an automobile crash
2 — Average time, in hours, between each incident where a vehicle or pedestrian is struck by a train
Operation Life Saver also lists the 10 most dangerous states for railroad crossing fatalities
26 Illinois railroad crossing accident fatalities in 2008
25 Florida railroad crossing deaths
24 California railroad crossing fatalities
19 Indiana railroad crossing deaths
17 Texas railroad crossing deaths
15 Louisiana railroad crossing deaths
13 Mississippi railroad crossing deaths
12 Ohio railroad crossing deaths
10 Alabama railroad crossing deaths
10 Missouri railroad crossing deaths
Illinois Railroad Crossing Accidents
Illinois railroad crossing accidents were the most deadly in 2008. According to the most recent statistics, in the most recent 10 years that statistics are available, Illinois had more than 1800 railroad crossing incidents resulting in more than 300 deaths. Approximately 40% of Illinois' railroad crossing collisions happened in the six county region of northeastern Illinois (DuPage, Kane, Lake, McHenry, Will and Cook County).
Missouri Railroad Crossing Accidents
Missouri railroad crossing accident were one of the 10 most deadly in 2008. Reports show Missouri had a deadly spike in railroad crossing fatalities in 2005. Missouri railroad crossing deaths fell in 2006, but then increased in 2007 and again in 2008.
Railroad Crossing Accident Causes
Railroad crossing collisions can have any number of causes. Some of these causes include:
Failure to install proper warnings, such as lights, alarms (crossing bells) or a functioning crossing gate
Defective warnings — inoperable lights, bells or gates
Improper sight lines that prevent a vehicle's driver from seeing an oncoming train until it is too late
Failure to properly maintain the crossing — such as allowing overgrown trees, vegetation and other foliage to obstruct or hide an oncoming train
Improperly parking a train at or near a crossing — this not only hides an oncoming train from view, but gives motorists a false sense of safety in seeing a parked train at the crossing
Failure to sound the train's horn or whistle at or near the crossing
Other negligence that may appear on the train's data recorder or video recorder
It takes a skilled team of investigators, experts and railroad crossing attorneys to identify critical information.
A railroad company is responsible for assuring that train crossing warning systems are active and in working order. In one Langdon & Emison case, the flashing lights were working, but there was no train visible. As the vehicle attempted to cross the tracks, a train came around a curve, failed to use its horn and collided with the car. In another case, a train was obstructed by overgrown vegetation and the crossing lights did not activate. Too often, railroad companies allow weeds, grass, trees and other vegetation to overgrow near railroad crossings. This overgrown foliage prevents motorists from seeing an oncoming train.
Langdon & Emison is one of the leading automotive product liability law firms in the country with offices in Chicago, St. Louis and near Kansas City. We try cases across the country and represent seriously injured persons and the families of those killed by defective products or the negligence of others. In addition to auto products liability, our practice areas include general products liability, trucking accidents, railroad crossing accidents, mass tort claims, dangerous drugs and commercial litigation.
Connect with Brett Emison on LinkedIn.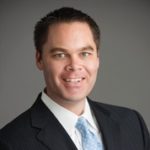 Brett Emison is currently a partner at Langdon & Emison, a firm dedicated to helping injured victims across the country from their primary office near Kansas City. Mainly focusing on catastrophic injury and death cases as well as complex mass tort and dangerous drug cases, Mr. Emison often deals with automotive defects, automobile crashes, railroad crossing accidents (train accidents), trucking accidents, dangerous and defective drugs, defective medical devices.