The Chicago Sun-Times and the Springfield News-Sun have each reported that the truck driver in the tractor trailer crash that killed four people near Springfield, Ohio was cited for speeding tickets years ago, but that the investigation of the trucking accident is ongoing.
According to the Sun-Times, Ohio Highway Patrol investigators said the highway was slick, but that speed could have been a factor. The semi-truck driver, Zygmunt Wieckowski, was treated and released from the hospital on Thursday.
Wieckowski, 59, of Chicago, had three speeding tickets and a couple of citations in the early 1990s but otherwise had a clean driving record.
Highway Transport Chemical, of Knoxville, Tennessee — for whom Wieckowski drove — is investigating the crash. Gary L. Reagan, the company's president said, "Our prayers and thoughts go out tot he families involved; we are sorry the tragic accident occurred."
Likewise, my thoughts and prayers continue to go out tot he families of those injured and killed in this tragic collision. Those killed were loved by many and will be missed.
The shuttle bus was transporting special needs adults from a creative learning workshop to their residence center. Those killed were bus driver Traci Williams and Vienna Meadows residents Lonnie Acton, Alonzo Ruffin, and Kenny Fry. Six passengers were also injured: Alec Court, Wayne Barnes, Zachariah Puddock, Elizabeth Tharp, Jonelle Blume and Danielle Thomson. All of the residents were close with each other. Those who knew them described Acton, Fry and Ruffin as jokesters and hard workers who did not allow their disabilities to define them.
"It's going to be very, very hard because they all look out for each other," said Diana Chaney, who spent 12 years at the center before leaving a little more than a year ago. "If one would get sick, they'd all be worried. They're not related, but they're family."
I've said many times that too many people have been killed by semi truck crashes and trucking accidents.
Let me be clear — by stating this, I do not condemn all truck drivers. There are very good truck drivers on our roadways. Truck drivers that take their position and responsibility seriously. Truck drivers who obey the rules.
By pointing out statistics that show more trucking crashes than there should be or by calling attention to truck drivers who are "bad apples," I do not intend to impugn an entire profession. I simply call attention to the ongoing struggle of some semi truck drivers to maintain the high levels of professionalism and safety required to operate an 80,000 pound rig at 70 miles per hour across thousands of miles of interstate highway. Such is an awesome responsibility.
Some commenters to other trucking accident posts have condemned me for failing to advise "four-wheelers" to be caution of tractor-trailers. While I appreciate viewers taking the time to read and comment, these commenters have not taken the time to read many of my posts — including here and here — both offering specific tips to "four-wheelers" for careful driving around semi trucks.
The fact remains that few bad apples behind the wheel of an 80,000 semi truck hauling up to three fully loaded trailers can have devastating effects on innocent motorists and tarnish the reputation of an entire industry far more than my little blog. Instead of rushing to defend these bad apples, the good truck drivers should be purging them from the industry. Better drivers are better for all.
All of us should want better safety on our roads, highways and interstates. All of us should want bad apples off the road. All of us should want drivers who play by the same set of rules.
My comments here apply to the facts as reported in this case; not to truck drivers as a whole. In this case, the reported facts show that this truck driver was probably driving too fast for the conditions. This truck driver was driving his 80,000 pound rig through a snow storm, lost control and plowed over a bus filled with handicapped adults — killing four and injuring six more.
I appreciate our good truck drivers and the service they do. We rely on them to deliver many of the goods we take for granted each day. I am sure many good truck drivers did not leave on their route during the blizzard – they caught up on rest, checked safety equipment or simply rode out the storm. Other good truck drivers drove their vehicles at a safe and controlled speed and did not lose control. The reports suggest this truck driver failed to take his responsibility seriously enough and the result was tragic.
Learn more and become a fan of Langdon & Emison on Facebook.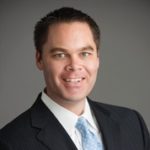 Brett Emison is currently a partner at Langdon & Emison, a firm dedicated to helping injured victims across the country from their primary office near Kansas City. Mainly focusing on catastrophic injury and death cases as well as complex mass tort and dangerous drug cases, Mr. Emison often deals with automotive defects, automobile crashes, railroad crossing accidents (train accidents), trucking accidents, dangerous and defective drugs, defective medical devices.