Each year, thousands of accidents occur in the United States involving large trucks, also known as semi-trucks, eighteen wheelers, tractor trailers or "big rigs." Statistics from the Bureau of Transportation Statistics show there were more than 350,000 commercial trucking accidents in 2007 alone.
Because of their difference in size and weight, collisions between a semi-truck and passenger car are far more destructive and devastating than accidents involving two passenger vehicles. A commercial truck, such as an eighteen wheeler, delivery truck or large freight truck may weigh more than 80,000 pounds when fully loaded. A typical passenger car weighs only about 3000 pounds.
In addition, due to their size and weight, tractor trailers require a large stopping distance. For this reason, the truck driver must maintain a greater distance between the semi truck and other vehicles on the highway. When a safe distance is not maintained, the results can be catestrophic and deadly.
Why do trucking accidents occur? The National Transportation Safety Board lists the following as some of the most common causes of truck accidents:
Inadequate (or lack of any) driver training
Driver fatigue
Speeding
Overloaded trucks
Oversized trucks
Brake failure
Poor driving conditions
Driver inexperience
Failure to yield the right-of-way
Driving under the influence of alcohol or drugs
Aggressive, dangerous or reckless driving
Mechanical failure (or improper maintenance)
Defective parts (such as defective steering or defective brakes)
It takes an experienced team of attorneys and investigators to determine if trucking negligence was to blame for your accident or injury. Langdon & Emison has the experience and resources to determine if a truck driver or trucking company is responsible for your injuries and to maximize your compensation.
Brett Emison and Kent Emison reached a confidential settlement for a woman injured in a trucking accident in rural Missouri. Our client, an elderly woman, was severely injured when a semi truck was following too closely and driving too fast for the conditions and rear-ended our client's vehicle. Our attorneys – using resources such as investigators, trucking experts and medical experts – were able to negotiate a confidential settlement that enabled our client to receive the care she now requires because of the trucking accident.
If you or a loved one has been injured during a trucking accident, you will need an experienced trucking accident attorney to evaluate your case and maximize your recovery from those responsible.
Langdon & Emison has offices in Chicago, St. Louis and near Kansas City. We try cases across the country and represent seriously injured persons and the families of those killed by defective products or the negligence of others. Our practice areas include automotive products liability, general products liability, trucking accidents, railroad crossing accidents, mass tort claims, dangerous drugs and commercial litigation.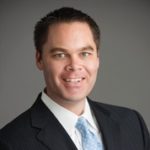 Brett Emison is currently a partner at Langdon & Emison, a firm dedicated to helping injured victims across the country from their primary office near Kansas City. Mainly focusing on catastrophic injury and death cases as well as complex mass tort and dangerous drug cases, Mr. Emison often deals with automotive defects, automobile crashes, railroad crossing accidents (train accidents), trucking accidents, dangerous and defective drugs, defective medical devices.