Have you seen Scott Brown's "Insider Trading" political ad? I'll let the pundits and the folks in Massachusetts decide whether what Brown says makes sense, but I was appalled by what Brown did in this ad – driving through what appears to be a residential neighborhood and taking his eyes off the road for more than 50% of the time he is shown driving.
The ad begins with Brown behind the wheel of pickup truck saying, "This is Scott Brown from the road and I approve this message"… while taking his eyes off of the road and looking directly into the camera.
http://www.youtube.com/watch?v=aExxgbIuGlU&feature=player_embedded
My rough calculation is that Brown was looking at the camera for about 6.5 of the 12 seconds he was shown driving his commercial.
Like many drivers – including teens – Brown seems to underestimate the risk of distracted driving to himself and to others. The truth is that distracted driving – whether by texting, using a cell phone, or filming a political campaign commercial – is even more dangerous than drinking and driving. In fact, distracted drivers are twice as likely to cause a crash than intoxicated drivers.
Distracted driving crashes can happen to anyone:
In 2009, more than half-a-million people were involved in distracted driving crashes and more than 5,000 people were killed.
Distracted drivers are 23 times more likely to be involved in a crash than a non-distracted driver.
Please, Scott Brown, take down your commercial showing such careless and dangerous conduct and make sure your pickup truck is in park when you film your next ad. At least he was wearing a seat belt.
[More on Distracted Driving Dangers]
(c) Copyright 2012 Brett A. Emison
Follow @BrettEmison on Twitter.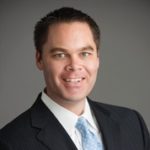 Brett Emison is currently a partner at Langdon & Emison, a firm dedicated to helping injured victims across the country from their primary office near Kansas City. Mainly focusing on catastrophic injury and death cases as well as complex mass tort and dangerous drug cases, Mr. Emison often deals with automotive defects, automobile crashes, railroad crossing accidents (train accidents), trucking accidents, dangerous and defective drugs, defective medical devices.