USA Today reports that many states are considering legislation to curb texting while driving. Nineteen states already have laws on the book and another 23 states will consider measures this year.
In 2008, the Department of Transportation says 5,780 people — 16% of all highway fatalities – died in distracted-driving crashes and an 515,000 were injured.
"Legislators are looking to see if it (texting) is enough of a safety issue that they need to intervene," says Anne Teigen, a transportation specialist for the National Conference of State Legislatures, who says 194 bills concerning various forms of distracted driving, including texting, are being debated in 34 states. "They often get involved because there's a high-profile accident that had to do with texting. Also, because everybody has a cellphone now."

Justin McNaull, auto club AAA's director of state relations, says he expects "a dozen or more" new texting bans to pass this year. "There's clear public disapproval of the behavior, and there's strong public support for a law," he says

***

Sen. Charles Schumer, D-N.Y., has introduced federal legislation to ban texting or e-mailing while driving. States that didn't go along would risk losing 25% of their federal highway funds.
With all of the technology available in today's vehicles, it is easy to become complacent or distracted while driving. Temptations include cell phones, texting, iPods, CDs, fast food, make-up. I've even seen someone reading the paper while driving in rush hour traffic.
Distracted or inattentive driving is not limited only to cell phones and texting. However, as more drivers — particular teenage and younger drivers — use these devices, the need for enforcement has increased.
I will withhold my comment as to whether drivers should police themselves or be subject to state or federal laws banning distracted driving. I'll leave that to your commentary and the legislatures themselves.
However, it is impossible to ignore the growing push for such regulations.
Whether specific laws are enacted or not, all drivers: from young to old; from sports car to SUV, from mo-ped to eighteen wheeler have a duty to use the highest degree of care and caution when driving. It is up to each of us and up to all of us to make sure that our roads, streets and highways are as safe as they can be.
Learn more and become a fan of Langdon & Emison on Facebook.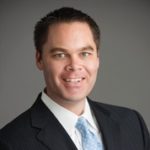 Brett Emison is currently a partner at Langdon & Emison, a firm dedicated to helping injured victims across the country from their primary office near Kansas City. Mainly focusing on catastrophic injury and death cases as well as complex mass tort and dangerous drug cases, Mr. Emison often deals with automotive defects, automobile crashes, railroad crossing accidents (train accidents), trucking accidents, dangerous and defective drugs, defective medical devices.