Several news sources including the Kansas City Star and CBS affiliate KCTV have reported that a massive pileup on I-35 near Wellsville, Kansas killed a three-year-old boy and injured 30 others.
You can view a video report on this massive pile-up here.
You can view an update on this story here.
FRANKLIN COUNTY, Kan. — A wreck involving 25 vehicles killed one person and injured more than two dozen others near mile marker 194 on southbound Interstate 35 Saturday morning.

***

Pat McRoberts said she could only hear the 25-car pile-up because the heavy fog blinded drivers like her from seeing the wreckage.

"What we probably did was get out he car and run because you knew something was coming behind you," McRoberts said. "We tried to slow down even more and couldn't. We had no steering on the ice, we couldn't brake, we were just at the mercy of the what he ca wanted to do."

Tracy Cochran, Gardner, Kan., was the first vehicle involved in the wreck. Her van slid off the road and a tow truck and a Kansas Highway Patrol trooper stopped to assist. The first vehicle struck was the tow truck, which led to a chain reaction accident.
Our thoughts and prayers go out to those who were injured and the family of the small child that was killed in this chain-reaction crash.
Reports indicate that this crash occurred before 8 a.m. and the Interstate was shut down in both directions. The southbound lanes were re-opened around 6 p.m. and the northbound lanes were not reopened until after 9 p.m.
Authorities say weather — including dense fog and low temperatures — contributed to the collision. This is a reminder to all drivers to adjust your speed for weather conditions and to leave plenty of room between your vehicle and the vehicles around you. Many vehicles involved in this collision appear to have been traveling too fast for the conditions and did not have time to avoid the collision because of low visibility. Some drivers involved in this collision said they felt as if there was nothing they could do – they were at the mercy of their vehicle.
You can learn more about auto safety at our safety blog.
You can learn more and become a fan of Langdon & Emison on Facebook.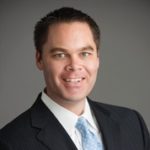 Brett Emison is currently a partner at Langdon & Emison, a firm dedicated to helping injured victims across the country from their primary office near Kansas City. Mainly focusing on catastrophic injury and death cases as well as complex mass tort and dangerous drug cases, Mr. Emison often deals with automotive defects, automobile crashes, railroad crossing accidents (train accidents), trucking accidents, dangerous and defective drugs, defective medical devices.