The producers at Glee tackled the growing problem of distracted driving in this seasons's winter finale cliff-hanger. Quinn is running late for her friends' wedding and getting several frantic texts to "HURRY". Quinn replies to the text while driving and her vehicle is hit by a truck.
http://www.youtube.com/watch?v=krwZUUjLwiY
Video Source: Sean Morton via YouTube
Chances are you've probably done it. You've checked a text, an email, made a phone call, been fatigued or sleepy, chowed down on a burger and fries, or simply "zoned out" for a moment while driving. I spend an hour-and-a-half on the road every day going to work and back and see it every day. Drivers – particularly young drivers – take distracted driving dangers for granted thinking "it can't happen to me."
But it can happen to you. CNN reported that it happened to more than half-a-million people in 2009, with nearly 5,500 people killed.
Texting and using a cell phone while driving account for more than 25% of auto crashes.
In 2010, the Huffington Post compared the dangers of texting while driving with driving under the influence with some surprising results — the study showed that texting while driving was much more dangerous than drinking and driving. According to that same investigative project:
Drivers are twice as likely to cause a crash if texting than if drinking — Drunk driving increases the likelihood of causing a car crash by 4 times while texting and driving increases the risk by 8 times.
Texting drivers need 6 times as much distance to stop than a drunk driver — drunk drivers travel 4 additional feet before stopping while a texting driver travels 25 more feet before stopping.
Texting drivers typically gaze at their mobile device for 5 seconds — enough time to travel 29 car lengths at interstate speeds.
To combat the distracted driving problem a group of more than 750 trial attorneys from the country have volunteered to speak at schools in all 50 states to spread the word about distracted driving dangers to young drivers. The group has set a goal of speaking to more than 100,000 students in one week during National Distracted Driving Awareness Month (April 2012).
Please don't put yourself and others at risk.
More at 60ForSafety.
More at End Distracted Driving.
More at the Casey Feldman Foundation.
More on Distracted Driving.
Read More:
(c) Copyright 2012 Brett A. Emison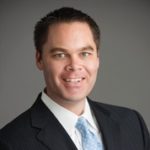 Brett Emison is currently a partner at Langdon & Emison, a firm dedicated to helping injured victims across the country from their primary office near Kansas City. Mainly focusing on catastrophic injury and death cases as well as complex mass tort and dangerous drug cases, Mr. Emison often deals with automotive defects, automobile crashes, railroad crossing accidents (train accidents), trucking accidents, dangerous and defective drugs, defective medical devices.