A Virginia Tech study has shown that drivers are 23 times more likely to be involved in a crash if they are texting instead of paying attention. People Magazine reported that a celebrity plastic surgeon – Dr. Frank Ryan – was killed when he was texting while driving. Dr. Ryan gained notoriety by performing 10 plastic surgery procedures on Heidi Montag in a single session.
He lived up in Malibu on a tiny street and he was texting while driving and he accidentally went over the cliff," Charmaine Blake says.
The Huffington Post compared the dangers of texting while driving with driving under the influence with some surprising results — the study showed that texting while driving was much more dangerous than drinking and driving.
Drivers are twice as likely to cause a crash if texting than if drinking — Drunk driving increases the likelihood of causing a car crash by 4 times while texting and driving increases the risk by 8 times.
Texting drivers need 6 times as much distance to stop than a dunk driver — drunk drivers travel 4 additional feet before stopping while a texting driver travels 25 more feet before stopping
Texting drivers typically gaze at their mobile device for 5 seconds — enough time to travel 29 car lengths at interstate speeds.
It is all too easy to become complacent or distracted while driving. Don't add to the danger by texting, twittering, emailing, Facebooking, etc. while driving. Not only is this activity dangerous, but in many areas it is illegal. Many states have enacted laws prohibiting talking on telephones or texting while driving. Use common sense and avoid distractions when driving.
[Note: there is a discrepancy in text above concerning the degree of risk stemming from texting while driving. The Virginia Tech study mentioned at the beginning of this post looked specifically at semi truck drivers. The Huffington Post study listed in the bullet points examined car crashes.]
[Update 8/19/2010]:
Here is the PSA Teresa mentioned in her comments below (Teresa – thanks for sharing your story):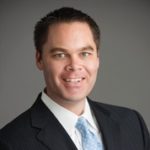 Brett Emison is currently a partner at Langdon & Emison, a firm dedicated to helping injured victims across the country from their primary office near Kansas City. Mainly focusing on catastrophic injury and death cases as well as complex mass tort and dangerous drug cases, Mr. Emison often deals with automotive defects, automobile crashes, railroad crossing accidents (train accidents), trucking accidents, dangerous and defective drugs, defective medical devices.