Another week… another attack on the Missouri Non-Partisan Court Plan for being… nonpartisan.
I wrote last week in defense of Missouri's non-partisan, merit-based selection of judges. I am compelled to do so again this week. This time in response to an irresponsible op-ed piece from the Wall Street Journal (coded nofollow).
The WSJ editorial irresponsibly (and inaccurately) described the Missouri plan using terms like "back-room dealing" and "cronies" and criticized the non-partisan court plan for alleged partisan influence and alleging "a slate of three candidates that would make George Soros blush."
WSJ criticized nominee Joe Jacobson for representing consumers and companies in various securities fraud, lending, and class action cases. It criticized Judge Michael Manners for his career representing injured people and serving as the president of the Missouri Association of Trial Attorneys. It criticized Judge George Draper for no reason at all (commenting only on the number of votes from the Appellate Judicial Commission.
What the Wall Street Journal did not tell you about these candidates:
Joe Jacobson represents both individuals and businesses. According to Jacobson's web site, he both prosecutes and defends consumer class action cases. He also represents business outside of the courtroom in complex business transactions.
Judge Michael Manners was selected as the Best Circuit Court Judge in Missouri by Missouri's lawyers in a state-wide poll conducted by Missouri Lawyers Weekly. In fact, Missouri lawyers rated Judge Manners 4.13 out of 5 on "not being affected by partisan consideration." Judge Manners has been retained by Missouri citizens in two retention elections and was a unanimous selection by the appellate judicial commission — including two members appointed by Republican Governor Matt Blunt.
Judge George W. Draper, III has served with distinction on the bench since 1994. Judge Draper has experience as both a trial and appellate judge and has been retained by vote of Missouri citizens. Judge Draper also serves as an adjunct professor at Saint Louis University. The St. Louis American identified Judge Draper "almost universally well-liked and respected."
Each of these individuals is eminently qualified to serve on the Supreme Court of Missouri. As I wrote last week, that is the question that should be answered. The WSJ criticized the perceived political affiliation of these nominees, but it did not criticize their qualifications.
Like last week, this latest criticism does not attack the Missouri non-partisan court plan because it failed to work, but because the system worked. The WSJ did not attack the Missouri plan because it failed to select the most qualified judges, but because it prevents stacking the Court with political appointees. The WSJ attacked the non-partisan plan because it is non-partisan and because it works!
The WSJ also incorrectly points out that "Missourians have been unhappy with the system…." This statement was unsupported in the op-ed and is simply not true. There are certainly small political factions and special interest groups unhappy that they cannot stack the court with political appointees – but this is certainly not the majority of Missourians as the editorial implies. In fact, these special interests sought to destroy the non-partisan plan by ballot initiative. A ballot initiative requires a threshold number of signatures from 6 of Missouri's 9 congressional districts. The initiative petition failed to garner enough support in 5 of 6 required Congressional districts (meaning fewer than 8 percent of Missouri residents in each of these districts were unhappy enough with the Court Plan to sign their name). At the same time, voters in conservative Green County Missouri (southern Missouri about 30 minutes north of Branson) voted to enact non-partisan, merit selection for their trial courts. Missourians are happy to keep politics out of the courtroom and clearly rejected these baseless attacks on the Missouri Court Plan.
We've seen the image of Lady Justice standing blind and weighing the evidence impartially. This is powerful, meaningful symbolism. The American justice system is the only forum where the powerful and weak operate on an even playing field. What happens when that playing field is unleveled by political contributions and special interests? What happens when Lady Justice is permitted (or even forced) to peak out from behind her blindfold?
Fairness. Justice. Liberty. Rule of Law. These are not partisan issues. These are not Democrat vs. Republican issues. Cases should be decided on the facts and on the law, not by partisan politics funded by special interest groups.
[More on the Missouri Non-Partisan Court Plan]
[More on your 7th Amendment Rights]
(c) Copyright 2011 Brett A. Emison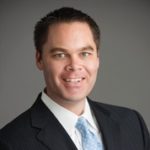 Brett Emison is currently a partner at Langdon & Emison, a firm dedicated to helping injured victims across the country from their primary office near Kansas City. Mainly focusing on catastrophic injury and death cases as well as complex mass tort and dangerous drug cases, Mr. Emison often deals with automotive defects, automobile crashes, railroad crossing accidents (train accidents), trucking accidents, dangerous and defective drugs, defective medical devices.