The headquarters of our law practice is in a small town just outside of Kansas City, Missouri. Ask anyone in town, and they could talk to you for at least an hour about Dr. Lea. They'll tell stories about how Dr. Lea stitched them up after an accident or cared for their child with a fever just a bit too high or countless other ways Dr. Lea helped their family… and always with Dr. Lea's trademark wit and humor.
But most of them never knew that Dr. Charles Lea was also Lt. Col. Charles Lea.
Charles Lea graduated from the United States Military Academy at West Point in 1957. He put himself through medical school at the University of Missouri and then volunteered for service in Vietnam. Dr. Lea served with distinction as a member of the 1st Brigade of the 101st Airborne Division. Dr. Lea's work as a combat physician saved hundreds, if not thousands, of lives and he was commended by a superior officer as "one of two [surgeons] that I feel has the potential to someday be the Surgeon General of the Army." Dr. Lea's skill and bravery earned him numerous medals and citations, including:
The Bronze Star
The Legion of Merit
Soldier's Medal
Four Air Medals
Army Commendation Medal
Viet Cross of Gallantry (Vietnam Gallantry Cross)
Combat Medical Badge
Parachute Badge
Many of Dr. Lea's patients never knew he was a decorated combat veteran who retired with the rank of Lt. Colonel. Still, Dr. Lea marked his service with the 101st Airborne as one his life's greatest accomplishments.
After his military service, Dr. Lea chose service as a general practice family physician rather than a more lucrative career as a specialist. His choice allowed Dr. Lea to serve countless families in Oklahoma and in Missouri, where he continued to practice until only days before his death in October 2008.
Dr. Lea was a hero. He was also my father-in-law and my daughter's namesake.
There are heroes all around us. Many who made it home safely from their service to our country and some who made the ultimate sacrifice.
Remember and honor their sacrifice today.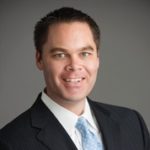 Brett Emison is currently a partner at Langdon & Emison, a firm dedicated to helping injured victims across the country from their primary office near Kansas City. Mainly focusing on catastrophic injury and death cases as well as complex mass tort and dangerous drug cases, Mr. Emison often deals with automotive defects, automobile crashes, railroad crossing accidents (train accidents), trucking accidents, dangerous and defective drugs, defective medical devices.