A Platte County, Missouri jury awarded $8 million to five-year-old Aaliyah George and her family for injuries Aaliyah received when a defective seat back designed by Johnson Controls collapsed during a minor collision, causing severe physical and mental injuries.
Seats can fail for several different reasons. Two of the most common causes of seat back failures are: (1) weak materials used to build the seats (such as plastic or hollow metal tubing); and (2) insufficient recliner mechanisms that bend and twist during even low speed impacts and allow the seat to fall backwards.
http://www.youtube.com/watch?v=iOGANmfz2hk&feature=player_embedded
If a seat collapses backwards, shoulder belts anchored to the frame of the vehicle will no longer protect and restrain the occupant. The occupant becomes unsecured and is thrown into the rear seat.
All car companies and, specifically, the actual seat manufacturers have known about this danger for decades. For example, in 1984, Ford Motor Company found:
"… recliner seat backs … twist on rear impact and form a funnel for front seat occupants to fly together toward the center of the rear of the car…."
Those at risk from these seat back failures include not only the occupant, but also children who are most often riding in the back seat of vehicles.
Aaliyah George – only two-years-old when she was injured – is one of these casualties. Aaliyah was properly restrained in her car seat, riding behind her grandmother, Margaret Steele in a Dodge Neon, when it was struck from behind while stopped at a red light. During the collision, the driver's seat broke and collapsed backward. Ms. Steele's head collided with Aaliyah's head. Aaliyah suffered multiple skull fractures and a massive injury to her left frontal lobe. She spent nearly a month in Children's Mercy Hospital in Kansas City.
Aaliyah now has permanent partial paralysis of the right side of her body, almost no use of her right hand, and limited use of her right leg. Aaliyah's most severe injuries were to her brain, which was damaged in areas that control higher learning, speech and thought processes. Aaliyah's doctors testified that she will not likely progress cognitively beyond that of an adolescent.
Seat design specialist, Lou D'Aulerio – who has designed seats for the US Military – testified that the Neon seat designed by Johnson Controls was defective and unreasonably dangerous. Mr. D'Aulerio explained that the design of the seat allowed a twisting of the seat back in a rear collision. This twisting action allowed the recliner mechanism plates to separate and cause the seat to collapse backwards into a rear seat occupant. Mr. D'Aulerio testified that the seat should have been designed with dual recliners, which would have prevented the seat from twisting and collapsing.
Representatives from Johnson Controls ("JCI") – the designer and supplier of the Neon seat – agreed that JCI's own testing showed the seat would fail just as it did in this collision. JCI also agreed that its own testing showed the seat would have collapsed at only 8,800 pounds of force — or approximately half the energy of a 25 mph collision. Tellingly, the JCI representative testified that he had no opinion as to whether the seat was defective and that JCI does not design seats with rear occupants in mind.
The trial began on July 19, 2010. It included testimony of 19 fact and expert witnesses. Following the week and a half trial and 6 hours of deliberation, the Platte County jury returned a verdict of $8 million in favor of Aaliyah George. This is believed to be the largest verdict against Johnson Controls, Inc. for a seatback failure case.
Sally George, Aaliyah's mother, is extremely happy with the result. Aaliyah's attorneys are also pleased with the verdict and thankful that Aaliyah will be able to receive the care she needs and deserves. "This is a great result for a wonderful family." said Adam Graves. Even Johnson Control's expert testified that Aaliyah's parents, Sally and Chris, were some of the best parents he has ever worked with. Aaliyah and her family were represented by Injury Board members Bob Langdon, Adam Graves and Phyllis Norman.
Additional News Coverage: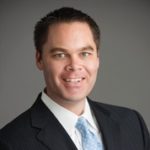 Brett Emison is currently a partner at Langdon & Emison, a firm dedicated to helping injured victims across the country from their primary office near Kansas City. Mainly focusing on catastrophic injury and death cases as well as complex mass tort and dangerous drug cases, Mr. Emison often deals with automotive defects, automobile crashes, railroad crossing accidents (train accidents), trucking accidents, dangerous and defective drugs, defective medical devices.