Last week, I had the privilege of testifying in support of the American Rule of civil justice and against a bill that would reject centuries of legal precedent in favor of the British Rule that was rejected by our Founding Fathers.
As I told the committee, I felt a little bit like Paul Revere warning colonists that the British are coming.
Our founding fathers fought the revolutionary war not only for tea and taxes, but also to uphold the rule of law to ensure access to courts and civil justice. In the list of grievances given in the Declaration of Independence, most of us are familiar with "For imposing Taxes on us without our Consent". But did you know that the very next grievance listed was "For depriving us in many cases, of the benefits of Trial by Jury"?
The American Rule of civil justice ensures fair access to the courts and an even playing field among litigants by eliminating oppressive disincentives to both those seeking justice (as a plaintiff) and those defending their conduct (as a defendant).
Justice Alito, in 2007, wrote: "Under the American rule, 'the prevailing litigant is ordinarily not entitled to collect a reasonable attorneys' fee from the loser.'" Explaining the rationale behind the American Rule of justice, an earlier Supreme Court said:
Although some commentators have urged adoption of the English practice in this country, our courts have generally resisted any movement in that direction. The general rule has long been that attorney's fees are not ordinarily recoverable…. [S]ince litigation is at best uncertain one should not be penalized for merely defending or prosecuting a lawsuit, and that the poor might be unjustly discouraged from instituting actions to vindicate their rights if the penalty for losing included the fees of their opponents' counsel…. Also, the time, expense, and difficulties of proof inherent in litigating the question of what constitutes reasonable attorney's fees would pose substantial burdens for judicial administration.
The sponsor of the proposed bill, HB 1342, suggested the purpose of the bill was to discourage frivolous lawsuits. Certainly, I am no fan of frivolous lawsuits. Frivolous lawsuits – by definition – have no place in our halls of justice. But this is why Missouri already has in place mechanisms to identify frivolous lawsuits, dismiss them from court, and award attorneys' fees to the prevailing party. Mo. Rev. Stat. section 514.205 states:
In any civil action… if the court finds… that the cause was initiated, or a defense was asserted, or a motion was filed, or any proceeding therein was had frivolously and in bad faith, the court shall require the party who initiated such cause, asserted such defense, filed such motion, or caused such proceeding to be had to pay the other party… the amount of the costs attributable thereto and the reasonable expenses incurred…, including reasonable attorney's fees and compensation of said party for the time reasonably required of the party to oppose such cause, defense, motion or proceeding.
Missouri Supreme Court Rule 55.03(d) also permits the recovery of costs and attorney's fees as sanctions for bringing a frivolous claim or raising a frivolous defense.
Law professor John Vargo's research suggests that the British Rule escalates legal expenses and can make settlements less likely. In Vargo's article, The American Rule on Attorney Fee Allocation: The Injured Person's Access to Justice, he recounted how the Florida Medical Association (FMA) lobbied the Florida legislature in 1980 to impose the British Rule. By 1985, the FMA lobbied for repeal of the British Rule in Florida because the British Rule caused expensive losses for doctors and hospitals.
HB 1342 unlevels the playing field by permitting a defendant to invoke the British Rule, but preventing an injured plaintiff from doing so. Under proposed section 511.801.3, the British Rule can only be invoked by a defendant. Under the proposed statute, an injured plaintiff could not invoke the rule if a defendant asserted frivolous defenses, bad faith delay tactics, or refused to negotiate a reasonable settlement.
HB 1342, in certain circumstances, also requires a winning party to pay the attorney's fees of the opponent. Proposed section 511.806 requires a winning party to pay attorneys fees and costs to their opponent if the amount of the verdict was "significantly less favorable" (defined as 50% of the last certified settlement offer). However, under proposed section 511.806.7, the award of attorney's fees is made in the judgment as an offset against the injured plaintiff's recovery from the defendant, so if the jury renders a defense verdict, no attorney's fees may be recovered by the defendant. However, if the jury awards damages to the plaintiff and the verdict is "significantly less favorable", attorney's fees can be recovered from 100% of the non-economic damages awarded, 100% of the punitive damages awarded, but only 50% of the economic damages awarded.
While the proposed British Rule bill in Missouri is better (less bad) than a similar law passed in Texas, HB 1342 still represents a substantial departure from more than 200 years of American history and jurisprudence. As conservative Andrew Cochran – "The 7th Amendment Advocate" – said about British Rule proposals: "Where are the Tea Party groups….? Why aren't they raising hell about the business community stripping [Missourians] of their rights?!"
The right of citizens to trial by jury was of such importance to our Founding Fathers that it was included in the list of Oppressions by the King in support of the Declaration of Independence. The fundamental right of Civil Justice was also included in the Bill of Rights as the 7th Amendment to the Constitution.
As the colonists recognized, as our Founders recognized, and as more than 200 years of history and practice has recognized, the fundamental problem with the British Rule is that it denies access to the courts for all but the very, very wealthy (or, perhaps, the very, very poor). Why? Because anyone else could not afford to risk the financial burden of losing even a meritorious case and being forced to pay the other side's attorney bill.
The British Rule, thus, provides disincentive to either seek justice for wrongdoing or to defend against a claim brought against you.
If the losing party is very wealthy (or is a wealthy corporation), perhaps he can simply write a check for the winning side's costs. If the losing party is very poor, perhaps he is "judgment proof" or can simply file bankruptcy to avoid paying the prevailing side's litigation costs. For everyone else, the substantial risk of loss in even a reasonable case brought in good faith will effectively shut the courthouse doors. The rich and the powerful will have much greater leverage in such litigation as they understand very few ordinary people can afford to risk loss at trial.
The risk to injured plaintiffs seems obvious, but this risk applies to a small business defending a lawsuit as much as it does an injured plaintiff. Under the British Rule, defendants (including small businesses) will be forced to consider the attorney's fees of an injured plaintiff when considering whether to settle and, if so, for how much. A small business facing potential liability and the prospect of paying attorney's fees may feel compelled to settle a case it might otherwise defend through trial. Other defendants may feel compelled to offer more in settlement than they feel the case is worth to simply avoid the risk of having attorney's fees imposed.
Whether you are a plaintiff or a defendant, for all practical purposes, access to justice will be denied under the British Rule.
When access to justice limited or outright denied, the result is more government; higher taxes; and threatened liberty.
Liberty is threatened because the 7th Amendment and the fundamental right of access to the Courts are the ultimate lynch pins for all other fundamental rights, which is why constitutional conservatives oppose attacks on 7th Amendment rights through tort reform. Conservatives understand that the Constitution means something. Conservatives understand that the Constitution must be upheld. Conservatives understand that the founding fathers inserted this amendment into the Bill of Rights for a reason. Conservatives understand that a civil jury trial is the ultimate check and balance against corporate and government intrusion. This is why leading conservative legal groups have begun to question the need for tort reform over concerns about tort reform's encroachment on fundamental civil liberties, increasing the size and burden of government, encroachment of states' rights, and tort reform's failure to promote accountability and personal responsibility.
Andrew Cochran, Fred Thompson, Rand Paul, Clarence Thomas, and other leading conservatives have come out against tort reform.
What is your remedy if someone violates your constitutional rights to free speech? To religious freedom? To keep and bear arms? To contract? What is your remedy when government goes beyond the constitution to infringe upon your fundamental civil liberty (whether health care, religion, firearms, marriage, equality, taxation, etc.)? These are civil law (or civil justice) claims in which you take the bad actor to court in order to have your rights protected. What happens when access to courts is limited? What happens when access to court is so lopsided that the average person cannot gain access? What happens when powerful lobbyists control the courts like they control other branches of government?
Our Pledge of Allegiance declares not Liberty and Justice for some. The Pledge does not permit Liberty and Justice for only the powerful. Our Pledge of Allegiance demands "One Nation, under God, with Liberty and Justice for all."
Freedom, liberty, and civil justice are issues our Founders fought and died for. These are issues that should unite us as citizens rather than divide us as partisans. Join those on both sides of the political aisle in calling for personal and corporate responsibility, for demanding accountability, for limiting government, lowering taxes, protecting Liberty, and in upholding our Constitution.
[More on your 7th Amendment Rights]
Update (2/27/2012):
HB 1342 has been passed through the General Laws committee with a modification that permits a plaintiff (and not just the defendant) from invoking the provisions of the bill. This change permits a plaintiff to use the British Rule offensively against a defendant taking an unreasonable settlement position or engaging in frivolous defenses.
Read More:
(c) Copyright 2012 Brett A. Emison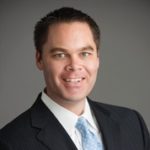 Brett Emison is currently a partner at Langdon & Emison, a firm dedicated to helping injured victims across the country from their primary office near Kansas City. Mainly focusing on catastrophic injury and death cases as well as complex mass tort and dangerous drug cases, Mr. Emison often deals with automotive defects, automobile crashes, railroad crossing accidents (train accidents), trucking accidents, dangerous and defective drugs, defective medical devices.